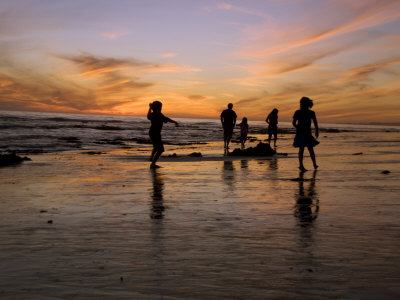 This morning I played Kick the Can and Dodge Ball and running games on the beach with my kids and their friends. We're on holiday right now and I have time to play all day long. It was great fun and it reminded me how much I loved these games when I was a child.
Yesterday lunchtime however saw the return of my unattractive pinched, sucking-on -lemons facial expression as my 5-year-old decided to take control of her plate of food and chose – yet again – not to eat it.
Yesterday I was tight-lipped, stressed mum. This morning I was carefree, fun-loving mum.
What happened?
I don't believe the reason is as simple as: today the kids were lovely and yesterday they were horrid.
I do believe that we manifest our reality, and if we're not feeling good in ourselves then it's pretty difficult to enjoy being with others. And children are of course expert sponges: they mirror back at us exactly what we're putting out there.
I know we all have good days and bad days, and I embrace my not so perfect parenting. However, this past week I've been reflecting on the small changes I can make to my life that can make it more rewarding and enjoyable for myself and for my family.
1. Meditate each morning
I resolve to meditate when  I wake up each morning.
I do meditate but find sticking to a regular early morning meditation the most challenging. But this week has taught me that if I meditate first thing in the morning, and meditate specifically on how I would like to parent my children that day, then I become the mother I'd like to be that day.
If I don't practice my meditation in the morning, then what results is a trickier time with my children. Meditation puts me back in touch with who I am and who I want to be. It's as easy as that.
2. Play catch, chase or dodge ball at least once a week
I resolve to play with my children as often as I can, and enjoy it.
Admittedly it's easier on holiday — as there's not exactly much else competing with my time. But when I'm at home I find that if  I play chase around the kitchen or dodge ball in that hour before supper then  I can defuse the after-school exhaustion with fun and games.
3. Let go a little
I resolve to remember that my kids are growing older and to remember to let go a little; give them room to breathe.
They're now about to turn 6 and 8. They're not so little any more. And I've only just realised it.
4. Stop trying to control them
I resolve to let my kids make more of their own choices, to allow them to make some mistakes, and give them the ability to learn responsibility for their decisions.
If my 7-year-old wants to wear his dirty, ripped, track-suit bottoms each day, with the same two t-shirts alternating every other day, then I need to just let him  - and do it without emitting an involuntary sigh each time he gets dressed.
I was never given this choice growing up as I lived in a strictly authoritarian household where the grip was tight and parental control was paramount. It's recently dawned on me that the only way to escape passing this on to my children is to make a conscious choice not to. This sounds pretty obvious, but my experience has revealed to me that my upbringing provided me with the only blueprint for how to parent.  Simply believing that this was not the way I would parent my children was not enough to stop my tendency to try to control them leaking out.
5. Listen more
I resolve to listen more and talk less.
I find more and more that my kids reveal so much about the important things in their inner lives if only I would listen more carefully.
6. Don't panic when they refuse to eat their broccoli
I resolve to not get stressed when they refuse to eat their vegetables.
This is a biggie. (For many of us). Meal-times have become maddening (for me).
I know my getting stressed won't make them eat their vegetables.
I realise that they're just trying to wrestle control over one area of their lives.
But knowing all this still doesn't seem to be able to stop me wanting to pull my hair out at dinner time, or run screaming from the kitchen and not look back. This may sound familiar to you, or this may sound a bit dramatic, but my kids are very aware how their refusal to eat what I've cooked for them winds me up. So, I resolve to not let it.
How exactly am I going to master this challenge? By simply deciding to not let it wind me up. They've reached the age of where I can reason with them, so I will explain to them that if they want the bad stuff (we all know what that is) then they have to eat the good stuff. End of.
And I'm not going to argue with them any more over exactly how many pieces of broccoli they need to eat before they can eat the bad stuff (or even if the stalks have to be eaten too).  They'll just know that they'll not get any puddings, or ice-cream until they do.
Whether this will actually help me to remain calm at all meal-times has yet to be proven as I've just started to implement it. But so far, so good.
(Maybe you have some methods that work miracles at meal-times?)
7. Change myself before trying to change them
I resolve to look at myself and my own behaviour before embarking on trying to change a behavioural pattern in my child.
It's true that children hold a mirror up to ourselves.
But I tend to forget that.
Especially when confronted by either aggressive or overly irritable behaviour by my children.
I often find that once I've looked at myself and addressed my own attitude or behaviour towards them then they will duly change. As I've said before, they reflect back at us exactly what we do and how we are. I find this useful to remember.
WHAT YOU CAN DO
163. Write out your own resolutions and see how you can improve your life and that of your family